Me before you by Jojo Moyes.
18:00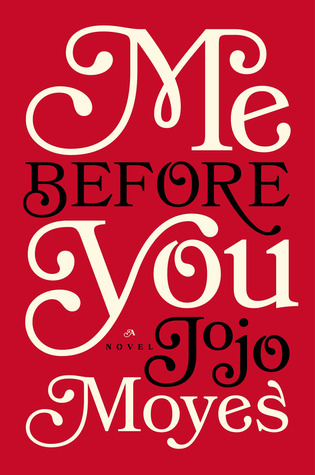 "Lou Clark knows lots of things. She knows how many footsteps there are between the bus stop and home. She knows she likes working in The Buttered Bun tea shop and she knows she might not love her boyfriend Patrick.

What Lou doesn't know is she's about to lose her job or that knowing what's coming is what keeps her sane.

Will Traynor knows his motorcycle accident took away his desire to live. He knows everything feels very small and rather joyless now and he knows exactly how he's going to put a stop to that.

What Will doesn't know is that Lou is about to burst into his world in a riot of colour. And neither of them knows they're going to change the other for all time."
Source.
I've had this book on my kindle (I purchased it ages ago) since forever and I wish I had of read it sooner! Ahh, where do I even start with this book? It is SO good. One of the best books I've ever read! It's written beautifully and Jojo Moyes really knows how to pull at heart strings, doesn't she?! I love the story, I loved the characters whom I fell in love with. I wasn't sure about Will at first (a bit like Louisa perhaps?) but half way through the book I decided I really liked him.
The whole nature of this book is just... It's so easy to read and had me gripped all the way through. I want to say so much more but I don't want to spoil it for anyone. All I'll say it, have tissues ready... Plenty of them.
Fantastic book, I couldn't put it down. Five stars from me! I can not wait to finish the second book "After You". Although, I'll be sad when this series is over....
What have you read lately? Do you have any "must reads?" you would recommend?
Sarah xXx