The sun is also a star by Nicola Yoon {Book Review}
00:00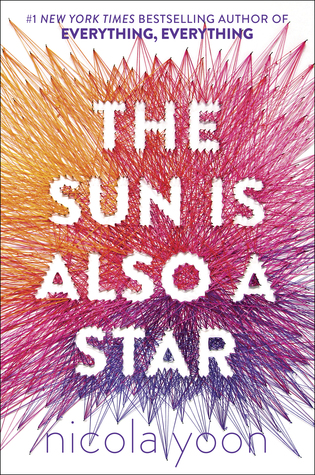 Genre:Young adult, contemporary, fiction.
Pages: 348
Natasha: I'm a girl who believes in science and facts. Not fate. Not destiny. Or dreams that will never come true. I'm definitely not the kind of girl who meets a cute boy on a crowded New York City street and falls in love with him. Not when my family is twelve hours away from being deported to Jamaica. Falling in love with him won't be my story.

Daniel: I've always been the good son, the good student, living up to my parents' high expectations. Never the poet. Or the dreamer. But when I see her, I forget about all that. Something about Natasha makes me think that fate has something much more extraordinary in store—for both of us.

The Universe: Every moment in our lives has brought us to this single moment. A million futures lie before us. Which one will come true?
My thoughts:
This story follows a young a girl named 'Natasha' and young man named 'Daniel'. The two strangers meet each other. Natasha doesn't believe in fate. Daniel does. Daniel tries to convince Natasha that they're suppose to be together... This story is so relevant to today's goings on in the world. It is heartbreaking but it's also an eye opener too.
Last year I read 'Everything Everything' by Nicola Yoon and I loved it, I found it very hard to put down. I'm not usually a fan of contemporary so I was pleasantly surprised.
'The Sun Is Also A Star' is one of those books that I couldn't wait to read. However, I was a little disappointment because I just.. I don't know.. I found it hard to get into. However, once I got into the story, I really enjoyed it. It's an interesting story and I learned a thing or two. I ended up loving Natasha and Daniel.
Rated 3.5 stars.
What book are you currently reading?
Sarah xXx
Sarah
has read 3 books toward her goal of 50 books.