A Thousand Boy Kisses by Tillie Cole {Book Review}
00:00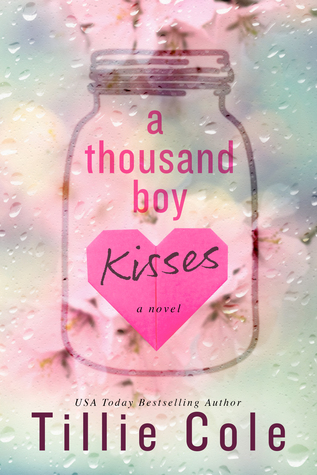 One kiss lasts a moment.
But a thousand kisses can last a lifetime.

One boy.
One girl.
A bond that is forged in an instant and cherished for a decade.
A bond that neither time nor distance can break.
A bond that will last forever.
Or so they believe.
When seventeen-year-old Rune Kristiansen returns from his native Norway to the sleepy town of Blossom Grove, Georgia, where he befriended Poppy Litchfield as a child, he has just one thing on his mind. Why did the girl who was one half of his soul, who promised to wait faithfully for his return, cut him off without a word of explanation?
Rune's heart was broken two years ago when Poppy fell silent. When he discovers the truth, he finds that the greatest heartache is yet to come.

Standalone Young Adult Tearjerker Romance.
For ages 14 and up
source
'A Thousand Boy Kisses' is a really hard book to for me to review. My thoughts are hard to put into words. It is one of the best books I have EVER read. It's beautifully sad and beautifully happy but in a sad way, I can't even explain.
I'm sorry if this contians spoilers but it is very hard to describe without giving too much away.
When Poppy's Mamaw passes away, Poppy is just nine years old. She makes a pact with her nan to fill her jar of paper hearts with a thousand boy kisses. Poppy and her best friend 'Rune' have been friends since the age of 5. They are half of each others soul. Rune has to leave Blossom Grove with his parents back to his native country, Norway. They are both utterly heartbroken. Poppy cuts Rune off with no explanation. No contact. Nothing. But why? When Rune returns to Blossom Grove, two years later, he soon learns why.
This story is utterly heartbreaking but it truly is a very, very good book. It's beautiful in every single way.
I really can't go into details on this book because I recommend that everyone should read this book. You will need a box of tissues, it's a tear jerker, that's so sure. A beautiful tear jerker at that. There is so much to this book!
I rate this five stars.. I'd rate this book all the stars in the world if I could. This book will stay with me a long time. And the play list of songs in the back? Whenever I hear any of those songs, it's going to really remind me of this beautiful story.
Sarah xXx