I see you by Claire Mackintosh {Book Review}
22:47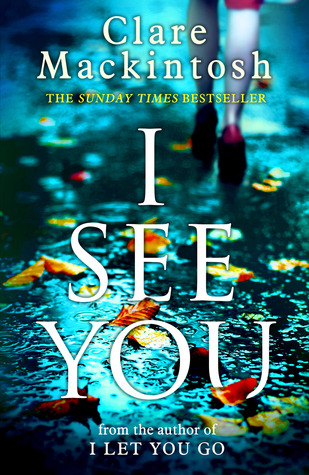 Page:
384
Genre:
Thriller/Psychological Thriller.
"
You do the same thing every day.
You know exactly where you're going.
You're not alone.

When Zoe Walker sees her photo in the classifieds section of a London newspaper, she is determined to find out why it's there. There's no explanation: just a website, a grainy image and a phone number. She takes it home to her family, who are convinced it's just someone who looks like Zoe. But the next day the advert shows a photo of a different woman, and another the day after that.

Is it a mistake? A coincidence? Or is someone keeping track of every move they make . . .

I See You is an edge-of-your-seat, page-turning psychological thriller from one of the most exciting and successful British debut talents of 2015.
"
My thoughts:
This story follows mainly Zoe. Zoe lives in London with her partner 'Simon' and her two children 'Katie' and 'Justin'. Zoe works in an estate agents. She catches the Tube every day, taking the same route to work every day. One evening on her way home from work, she spots an ad in the local paper. The ad is a photograph of her in which looks like a dating agency website. Zoe shows her family and all of whom say it's a look alike and isn't Zoe at all. She tries brushing it off and putting it the back of her mind. Another ad is in the same paper a few days later - Only Zoe notices a link to a recent crime. She contacts the police...
I can't go any further without spoilers.
- Side note- I've decided to start posting my book reviews here on my main blog rather than my book blog. Keeping up with two blogs is hard work!!
I read
'I Let You Go'
by the same author, earlier on in the year and absolutely loved that book too, which is why I was so eager to read
'I See You'
I'm no gonna lie, I don't think I was in the mood to read a thriller when I first started reading this book, despite the anticipated wait. However I quickly got into it and around half way through I found it hard to put down! I actually read most of second half of this book in one sitting.The twists in this book. Oh my goodness! AMAZING! It's actually very realistic and with today's technology something that could so easily happen. It really made me think. Very clever plot, very well thought out and very well written. This book is easy to read, too! If you liked 'I Let You' I think you'll like this book too. It kind of in a way reminded me of Girl On The Train, too! I would recommend this book to anyone who enjoys a good mystery/psychological/thriller.
What have you read lately? Let me know in the comments :)
Sarah xXx