May Book Reviews #50books2014
20:00
So far this month I have only read two books. I don't know what has got into me but I have had not very much motivation to read. And I don't know what's going on with the goodreads counter widget but it doesn't seem to have registered the last two books that I have read. I've read seventeen books, not fifteen. Very odd. Anyway, here are my book review for this month (so far)


"
He beat them, he abused them, and he tortured them. He broke their dreams. But they came back stronger.
'Terrie and Paul are two of the bravest people I have ever met. I have only shared the briefest glimpse into the true horrors this brother and sister have endured, but I rarely come across cases this bad. After the unspeakable abuse and shocking betrayals, two incredible human beings came through – to inspire us all.'
Sara Payne OBE, co-founder of Phoenix Survivors
Terrie and Paul's step-father had been living with them for six months when the abuse and grooming began. What started as innocent conversations and goodnight kisses quickly developed into something far darker and depraved.
Everyday Terrie was assaulted and abused; her rapes were photographed, filmed and shared. Paul was regularly taunted and mercilessly beaten. But despite the bruises and the scars, and the desperate pleas for help, no one saw their pain.
But through it all they stuck together, battling for their childhoods for over a decade and masterminding creative ways to outwit their stepfather and buy themselves fleeting moments of joy.
In March 2013, thirty years on, Terrie and Paul made the brave decision to give up their right to anonymity to tell of the years of abuse they endured at the hands of their recently convicted step-father and raise awareness for the ongoing battle for justice for victims of child abuse. A powerful testament of what can be achieved through courage and love, this is their inspiring story"
This is a true story of bravery. It's written very well. It is quite hard to read but only because it is so incredibly heartbreaking. Having said that though, I couldn't put this book down. This has to be one of the most heartbreaking, horrendous stories I have ever read. It's very, very sad and incredible what these two children endured, I can't even imagine. No child should EVER have to go through what these two siblings went through.
Five stars from me.
Mary had reservations about eight-year-old Hannah joining her class. The three emotionally disturbed boys she was currently looking after had been making steady progress, and Hannah, who had a reputation for being a withdrawn and incredibly troubled child, would only be a disruptive influence.
For the first fortnight Hannah retired to a cupboard and refused to come out. Howling almost non-stop she was displaying the worst symptoms that Mary had ever seen.
How could Mary help a child who had been shut up in closets and treated like an animal? What could she say to a child who had been locked out of her own home, and beaten by both her brother and her father? How could she reach this lost girl?
This is the remarkable story of Hannah and Mary's journey together. Deep within Hannah, Mary recognises an amazing strength. And with love, skill and patience, she gradually starts to make a difference. It's a long road to recovery, but Mary never gives up.
As this moving true story unfolds, we feel Mary's joy, we share her hope and, in time, her faith that Hannah will be okay
Very easy book to read, I read it in just over a day.
This was a very moving story, true life and real. I loved this book! I felt so incredibly sorry for Hannah and her mother, it does have a happy ending though. Really glad I read this book.
4.5 stars from me.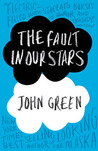 Despite the tumor-shrinking medical miracle that has bought her a few years, Hazel has never been anything but terminal, her final chapter inscribed upon diagnosis. But when a gorgeous plot twist named Augustus Waters suddenly appears at Cancer Kid Support Group, Hazel's story is about to be completely rewritten.
This is the first John Green novel I have read, I wanted to read it to see what all the hype was about and wow, I am so glad I did! I couldn't put it down.
Like. WOW! I think this has to be one of the best books I have ever read, it's certainly in my top five!
This book made me laugh and cry. Wow, did it make me cry! I fell in love with the characters. I love the way it's written.. I love everything about this book. It's easy to read and it's a book I could read over and over again! If you haven't read it... You should!

Sixteen-year-old Zara "Zip" McKee lives for three things: basketball, books, and bailing out of tiny Titusville, Illinois, where the junior high and high school are in the same building and everyone's known everyone else since birth. But when Kieran Lanier moves to town and passes out on her desk on his first day at school, Zip's life gets complicated in a way she never dreamed.

Kieran has narcolepsy, and although he sometimes struggles to stay awake, he has no trouble capturing Zip's heart and trusting her with his most guarded secret--he sees bits and pieces of the future in his dreams.

But just when Zip thinks that maybe she can handle having a boyfriend who sees things before they happen, her budding relationship with Kieran gets a jolt when Kieran's parents reveal that his sleeping disorder is not what it seems and may be putting them in harm's way. And when Zip begins to have unsettling dreams, she must decide if she can live with knowing the future in advance when she's afraid of what might happen.

*Recommended for Young Adult readers 13 and up (mild cursing, some adult situations)
This is the first book in the 'In your dreams' series. I started reading this book back in February. I stopped reading it because I was finding it hard to get into. I picked it up again tonight and finished it! I like the way this book is written and I love the characters but it just took a good while to get into. It does have a good ending. I will probably read book #2 at some point but if I'm honest I'm not in any hurry.
I feel this book is probably more for a mature teenager.